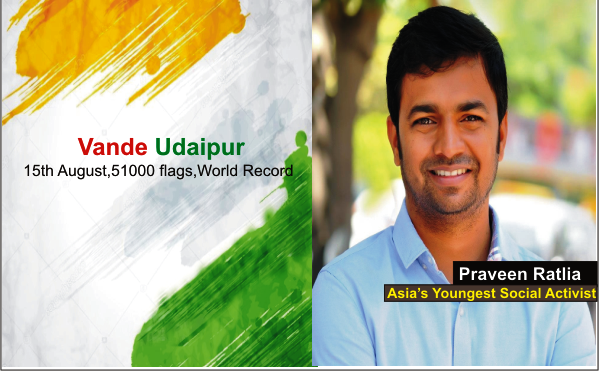 At a young age lot of lucrative dreams build up which keeps attracting the youth like a magnet. In the hustle of chasing the dream, most just think and work for self and it's very rare for the youths to aspire to work for others. Praveen Ratlia started working for the social cause at quite a young age when others remain occupied with the tasks intended towards the self-growth. He has been perpetually engaged in welfare tasks in different areas related to health, environment, education, culture and social economic reforms for sustainable development for Udaipur District. He has been awarded the honour of 'Asia's Youngest Social Activist' for his excellence in social work. In addition to serving the social causes, he has set a unique trend of making social world records which involve and benefits thousands of people from the society, this Independence day he is up for his 6th proud world record with Vande Udaipur campaign of distributing the tricolour national flag at 51000 houses of 6 districts of Udaipur division and hoisting on the same day, at the same time. Thousands of people will wave the national flag with instilled pride and respect. Earlier 5 consecutive world records were made by Praveen in 3 months. The Vande Udaipur campaign will last for four days below are the details of the whole campaign.
Vande Udaipur Campaign
Distribution of 51000 national flags at 51000 houses of Udaipur division and Hoisting on Independence day at the same time, making a world record.
12 August 2018 (Sunday)– At 8:00 AM the flags will be distributed to the selected houses of the 6 districts(Udaipur, Chittorgarh, Rajsamand, Banswara, Pratapgarh) of Udaipur division. Outside every house one big sticker of 'Vande Matram' will be pasted and from each house, one fistful of flour will be taken
13 August 2018 (Monday)– The collected flour will be used to prepare 'Chapatis" to be fed to 15000 tribal people accompanied by citizens from the district, along with the distribution shoes, sleepers, and 1500 school bags.
14 August 2018 (Tuesday)– An evening with the soldiers and the families of Martyrs "Azaadi Ke Naam" will be celebrated under which a 'Kavi Sammelan' will be organised.
15th August 2018 (Wednesday)– This day 51000 families of Udaipur division will hoist the national flag at their house at the same time making a world record.
Earlier Records By Praveen Ratlia
18 March 2018–

World Record of 11000 Lord Hanuman frames and Hanuman Chalisa distribution

-11000 Lord Hanuman's frames, Hanuman Chalisa, and Laddus were distributed to 11000 Hindu homes in just 2 hours on 18th March 2018, Hindu New Year.
18 March 2018–

World Record of 5200 shoe distribution

-Same day 5200 shoes collected from the same 11000 homes were distributed to Hindu Tribal residents.
21 April 2018–

World Record of 5800 school Bag Collection-

5800 school bags were collected in just 4 hours by Poetry lovers in the 'Kavi sammelan' event by the name 'Namo Anubhav'.
24 June 2018–

World Record of 11000 tulsi plantation

-11000 tulsi plantation done at the same time in 11000 Hindu homes on Nirjala Ekadashi.
Record5–

World Record of 11000 Bhagwat Geeta Distribution

-Same day 11000 Bhagwad Geeta were distributed in 11ooo Hindu homes.
This is a great selfless work being put by Mr. Praveen Ratlia and can be an inspiration for today's youth. Let's take some inspiration and contribute towards the welfare of people and the Nation. This Independence day let's join the Vande Udaipur campaign and proudly wave and salute our National Flag.
Jai Hind! Vande Matram!
Watch Vande Udaipur Campaign Video: