Everyone has dreams but not everyone is able to fulfill those because there are a lot of challenges that breaks you midway or in the beginning itself, Jay Kumar is a live example of the people who fight the challenges and fulfill their dreams to change their fortunes forever. Jay was brought into the business at an adolescent age of just 12 when he couldn't even reach the 'Tawa'(pan) as a result he remains deprived of the education, his father had started the egg business back in 1984 and there came a tough time when his father suffered a disease and was bed ridden that time he was the only one left to bear the responsibility of the whole family.He had mother, two unmarried sisters and a younger brother in the family to look after, there was scarcity of money, he didn't even have the money to pay the house rent but this didn't affect his desire to do something big, he decided to take forward his father's legacy to a whole new level creating a difference with his innovative ideas.He started experimenting with the egg recipes, creating his own blend of spices and taking feedback of the taste from customers was a part of his experiments, continuous improvisation through feedback lead him to invent some drool-worthy addictive egg dishes which spread to the taste buds of people real quick and after that he didn't look back, his popularity began increasing day by day with tourists adding up to his lists of customers and soon his egg dishes became the most popular street food in Udaipur.
He claims to have invented around 50 egg dishes.His most famous, in demand dishes are Boiled Egg Bhurji, Egg Nice, and Tandoori Omelette(Watch Video).The boiled egg bhurji is a spicy curry of boiled egg consumed with the white bread which bears an addictive taste and can easily make up for your lunch or dinner, this dish is insanely in demand. His taste not only attracts the city people but the tourists from all over the country, some of the TV celebrities have also visited him.
Jay Kumar have also made it to the newspaper headlines, personal blogs, national and international magazine articles which includes a well known Italian magazine too. Jay had also been a Master chef participant in the season 4.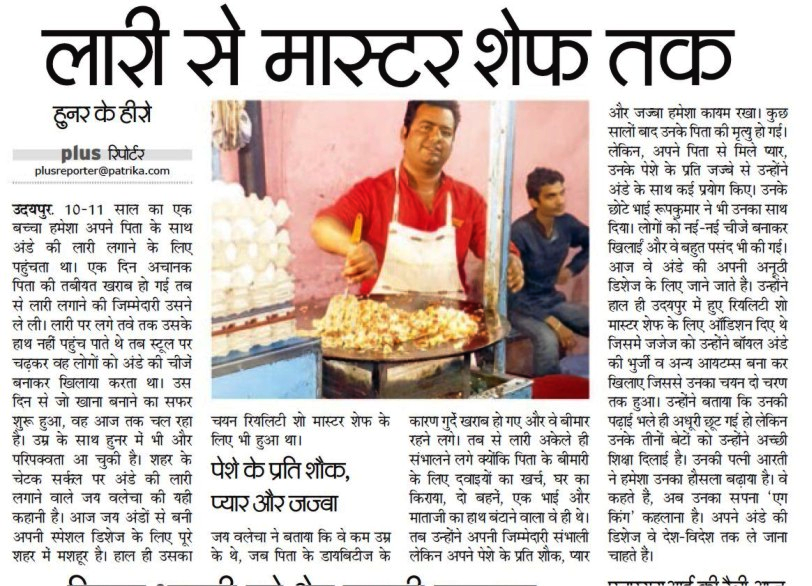 Jay's 'The Egg World' outlet is located at Chetak circle, Udaipur.He has a team of 11 who work with full dedication as Jay, most members are from his family, some of the team members are Roop Kumar(younger brother), Dipesh Valecha(Son), Dev Valecha(relative), Vijay Madhwani(relative), and Sunny Valecha(Relative).Jay Kumar has registered his brand as 'The Egg World' and has plans to expand in the form of outlets in the city and franchised outlets in the major cities of India.There are many who tried to copy the recipe of Jay but no one succeeded till now and as Jay says 'original original hi rehta hai'.Jay kumar wants his taste to spread all over the world to bring more fame and glory to the Udaipur city.
Jay Kumar is truely an 'Egg king' with so much of talent and list of achievements and many food entrepreneurs can take inspiration from his talent and work.We wish him all the best for the future.
Watch him making the popular lip smacking 'Boiled Egg Bhurji' and 'Tandoori Omelette' in the below video.
Please like our facebook page by clicking below button and stay updates to wonderful stories from Udaipur.Send us your stories at udrbeats@gmail.com and we will promote it
[efb_likebox fanpage_url="Udaipurbeats" box_width="250″ box_height="" locale="en_US" responsive="1″ show_faces="1″ show_stream="0″ hide_cover="0″ small_header="0″ hide_cta="0″ animate_effect="fadeIn" ]