Best veg restaurant in Udaipur 2023
In 2023, Udaipur will still have an extensive choice of excellent pure vegetarian restaurants to suit a variety of tastes. In Udaipur, there are plenty of restaurants that cater to vegetarians. These can be spotted all around the city, particularly along the lakefront and along the city's narrow roads. The food offered combines traditional Rajasthani cuisine with modern Indian cuisine, and it is surprisingly consistently good and tasty.
Similar to those you specified, here is a list of 10 Udaipur's best 100% vegetarian restaurants.
1. Natraj Restaurant
The well-known Natraj Restaurant in Udaipur has maintained its reputation for delicious, entirely vegetarian Rajasthani cuisine. Natraj continues to be a popular destination for both locals and tourists because of its rich tradition and genuine flavours. Delicious Rajasthani dishes like Dal-Baati-Churma, Kadhi-Bafla, and Gatte ki Sabzi can be found in the city's culinary scene.
Address;  Behind Ashoka Cinema, Bapu Bazar Main Rd, Udaipur, Rajasthan 313001
2. Jalsa Restaurant
Jalsa Restaurant in Udaipur offers a colorful dining experience that accommodates a range of tastes and preferences with a blend of Indian and international vegetarian options. In the separate Pure Veg Restaurant, patrons can observe the food being produced in real time and communicate with the cooks. 'Jalsa' offers you the ideal atmosphere to unwind and relax with friends and peers thanks to its huge seating area, luxury ambiance, and lively vistas.
Address; First Floor, 302, Purohit Ji Ka Khurra, Imli Ghat Before, Chand Pole, Parking, Udaipur, Rajasthan 313001
3. Rootage Restaurant
Pure vegetarian dining is available at the Rootage Restaurant, which is renowned for its use of organic and locally produced products. Modern, elegant building that will captivate you in a unique interior and exterior will appeal to your senses.
Address;  HMJW+7P7, Ashoka Cinema Rd, near Max showroom, Thakkre Baba Conlony, Surajpole, Nada Khada, Udaipur, Rajasthan 313001
4. Mewar Foodies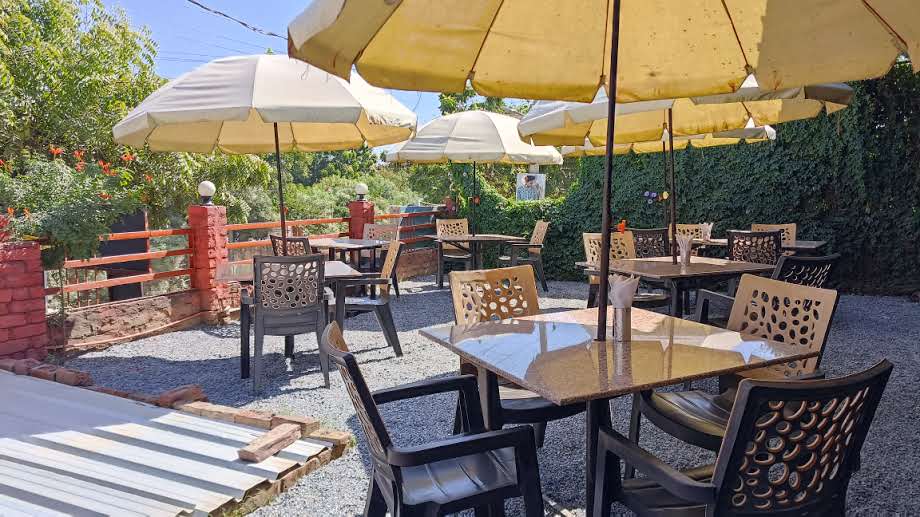 Specializing in vegetarian Rajasthani and Indian food, Mewar Foodies' extensive menu perfectly encapsulates Udaipur's rich culinary history. Mewar Foodies, India's most eco-friendly restaurant, was founded by a local Renaissance man.
Address; Fateh Sagar Rd, near biological park, Eklavya Colony, Udaipur, Rajasthan 313001
5. Hari-Vedas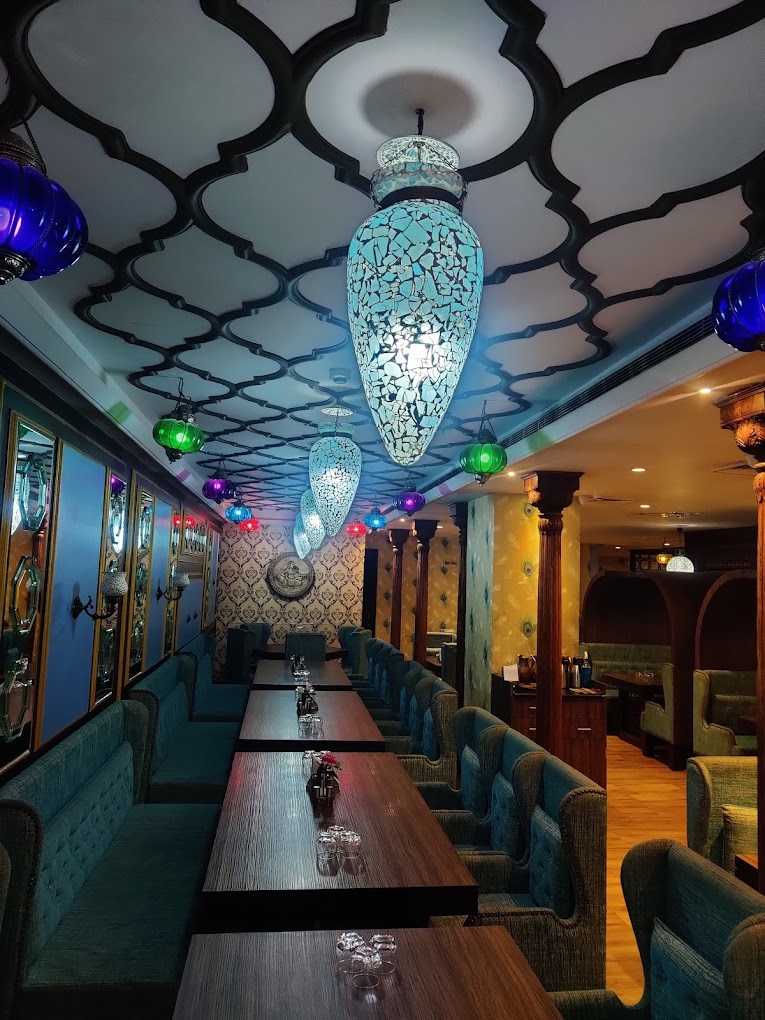 This eatery specializes on vegetarian and Ayurvedic food, serving wholesome, tasty dishes that support health. This restaurant should be on your top lists if you want good vegetarian food. It has wonderful food and a lovely ambiance.
Address; Opposite Devendra Dham, Pulla Bhuwana, Bhuwana, Udaipur, Rajasthan 313001
6. Angeera Restaurant
Angeera Restaurant offers a wide variety of vegetarian alternatives and combines regional flavors with a modern touch to provide a distinctive dining experience. Serve delicious vegetarian food to your guests that have been prepared by the in-house caterers.
Address; 100 Feet Rd, opp. Zudio Showroom, Shobhagpura, Udaipur, Rajasthan 313001
7. Bawarchi Restaurant
The vast vegetarian menu at Bawarchi Restaurant & Dining Hall features a variety of foods that can satisfy a variety of tastes and wants. Serve the culture of this country, where food is everything. In Udaipur, you may Savour the best luxurious Rajasthani cuisine as well as other mouthwatering treats. It features a delicious fusion of Gujarati, Rajasthani Thali, and Punjabi meals to excite all of your taste buds.
Address; 6, Nayapura, Delhi Gate Cir, Udaipur, Rajasthan 313001
8. Rama Bagh
Rama Bagh Bhupalpura is a symbol of culinary brilliance and a peaceful haven from the busy streets of Udaipur, the enchanting city of lakes and palaces. This restaurant is more than simply a place to eat; it's a cultural immersion into the culinary traditions, vibrant culture, and rich history of Udaipur.
Address; C.P.S Road, near Saurabh Enclave, opp. कोठारी डेंटल क्लीनिक, New Bhupalpura, Udaipur, Rajasthan 313001
9. Jaipur Jungle
In Udaipur, known as the city of lakes, Jaipur Jungle has recently opened its third location – a top all-vegetarian fine dining restaurant. This unique jungle-themed restaurant offers a multi-cuisine experience, with a wide variety of delectable vegetarian dishes and an impressive selection of mocktails at the bar. Conveniently situated on the third floor of the Celebration Mall, the restaurant can accommodate up to 120 people both indoors and outdoors.The ambiance of Jaipur Jungle is an immersive journey into a dark and jungle-inspired setting, complete with captivating light and sound shows happening throughout your visit. You'll find yourself surrounded by artificial leaves, rocks, and wood, creating a truly wild dining experience. For those looking to enjoy the fresh air and city views, there's also an open area where you can relax, listen to music, and even encounter some adorable pets like rabbits that will surely amuse both you and your little ones.
Address; 3rd Floor Celebration Mall, Bhuwana Bypass, opp Devendra Dham, Bhuwana, Udaipur, Rajasthan 313001
10. Udaipuri Restaurant
Udaipuri Restaurant in Udaipur truly delivers a remarkable dining experience. From the moment you step inside, the chic decor and serene atmosphere transport you to a world of culinary delight. The restaurant's unique vegetarian fusion menu is a joy to explore, offering a delightful blend of traditional Indian flavors with innovative twists. Located in a central area, the restaurant boasts fantastic views that add to the overall ambiance. The specialty mocktails and soft drinks perfectly complement the diverse menu, ensuring a refreshing and satisfying dining experience. With attentive service and attention to detail, Udaipuri leaves a lasting impression. Whether you're a vegetarian or simply seeking a memorable meal, Udaipuri Restaurant is a must-visit destination in Udaipur.
Address;  Orbit Building, 1st Floor Hotel, Moksh Marg, Shastri Circle, Udaipur, Rajasthan 313001
11.Saffron Restaurant
       Saffron Restaurant in Udaipur specializes in vegetarian cuisine, with a mouth-watering selection of dishes from North and South India, Chinese cuisine, as well as desserts. This budget-friendly restaurant provides a wonderful opportunity to indulge in sumptuous vegetarian food without breaking the bank. You're guaranteed to enjoy the most unforgettable dining experience with Saffron Restaurant's exquisite cuisine, guaranteed to titillate your taste buds and leave you feeling satisfied.
This restaurant located at 3 locations of Udaipur.
Address; 1. 61A, Sukhadia Cir, Opp. Goldcoast Apartment, New Fatehpura, Panchwati, Udaipur, Rajasthan 313001
2. 51 & 52, Sajjangarh Rd, opp. Power House, Eklavya Colony, Udaipur, Seesaram Rural, Rajasthan 313001