In the Indian state of Rajasthan, Udaipur is also known as the "City of Lakes", it is a stunning city. The city is well-known for its historic palaces, peaceful lakes, and vibrant culture. Both tourists and locals love dining out in a restaurant and for that, everyone looks out for a restaurant that is best on all parameters like ambiance, Food, service, and accessibility. We have saved you the hassles of researching the best restaurant in Udaipur, after thorough research we have concluded a list of 10 restaurants in Udaipur that are really the best on all the parameters mentioned. Our research is based on personal experience, surveys with locals, and internet reviews. We have tried to provide you with unbiased restaurant options that are really good even the restaurants don't know that they have been shortlisted.
There are many places to dine in Udaipur, including neighborhood eating halls, rooftop bistros, and fine dining restaurants along the lake in Udaipur. The 10 best restaurants in Udaipur are listed below.
1. Brahma Kamal Niwas Restaurant
Category: ONLY VEGETARIAN
Bar: YES
The atmosphere at the Brahma Kamal is known for its cool winds that tempt a late-night meal. In the Brahma Kamal Niwas Restaurant in Udaipur, has lake view of Swaroop Sagar Lake. Food is an art where ingredients come together to make the customer happy with skill in presentation and accuracy in taste. Brahma Kamal is an epicurean's paradise, offering a variety of cuisines to suit everyone's preferences. They have plenty of space because there is both indoor and outdoor seating accessible. One of the restaurants in Udaipur that is known for its romance features live ghazals to help you get in the mood for a special date.
This restaurant is an outstanding pick if you're in the mood for Indian food. Brahma Kamal is a magnificent location with opulent interiors that are meant to stun. A wonderful view of the city may be had from their rooftop. This restaurant has been named as one of the best places to eat in Udaipur because it offers service befitting a king or queen. In the evenings, live music is available. All year long, the kind staff welcomes you to this location. Customers enjoy the amazing service provided here. Prices are moderate from the perspective of the visitors. You will enjoy this restaurant's tasteful interior design and cosy atmosphere.
Address: 7, Ambavgarh,Opp. Swaroop Sagar lake Udaipur
2. Hari Vedas
Category: ONLY VEGETARIAN
Bar: NO
In Udaipur's Celebration Mall, there is a vegetarian restaurant called Hari Vedas that serves both a-la-carte meals and buffets. This restaurant has got regal interiors which gives you a royal feel the moment you enter.The buffet offers a mouth-watering main meal, a mouth-watering dessert, two energizing welcome beverages, and four delicious starters. Staff members are friendly and really polite. Italian, Chinese, North Indian, Mexican, and fine dining. Come here for a break and enjoy expertly prepared pizza, paneer, and dal makhani. Try some delicious ice cream, chocolate pastries, and truffles before you depart. After a long day at work, you can have a delicious cup of tea or lemonade.
This restaurant is well known for its excellent customer service and helpful personnel. Due to the relaxing ambiance and welcoming decor, tourists can relax here.
3. Jaipur jungle
Address: 4th Floor, The Celebration Mall ,, NH 8, Bhuwana, Udaipur-Rajasthan
Category: vegetarian
Bar: No
In Udaipur, the city of lakes, "jaipur Jungle" has opened its third location of fine dining and is one of the top all-vegetarian restaurants. This is a Jungle themed multi-cuisine, exclusively vegetarian restaurant with a bar area that offers a large selection of mocktails. The building is located on the third floor of the Celebration Mall and has a 120 person capacity both inside and outside. The friendly service, unique ambiance, entertainment, and variety of cuisines, including Tandoor Items, Special Sizzlers, Indian, Mexican, and Italian.
The ambiance is dark and jungle-inspired, with a light and sound extravaganza happening every minute. You may immerse yourself in nature and enjoy the adventure of being in the wild at this location, as the interior is adorned by artificial leaves, rocks, and wood . This restaurant also has an open area where you can enjoy music and city view, you can also find some cute pets like Rabbits which can amuse you and the kids. If you want to enjoy a romantic dinner, Jaipur Jungle offers you the greatest atmosphere, impeccable service, and delectable gourmet fare. This is the ideal setting for socializing with other hunters and exchanging tales from the jungle. This restaurant serves a variety of cuisines.
Address: 3rd Floor Celebration Mall, Bhuwana Bypass, opp Devendra Dham, Bhuwana
4. 1559 Ad
Category: veg/ non veg
Bar: Yes
As the name suggests, it is a nostalgic-themed eatery that offers classic Indian cuisine in a charming atmosphere. This modern restaurant is well known for its royal atmosphere. The restaurant is renowned for its wide selection of international cuisines and pizzas in addition to serving traditional Indian and Rajasthani fare. This eatery is situated on the Lake Pichola Hotel's patio.
This is the ideal fusion of old and new, with a few modern designs and antiquated artefact's. The restaurant's live classical music added to the overall relaxing and memorable experience. Come here for the laid-back atmosphere, breath-taking lake views, and eclectic menu featuring dishes from Indian, Thai, and continental cuisines. The meal is complemented by the excellent cocktail selection.
Address:Near, P P Singhal Marg, Fateh Sagar Lake, Udaipur
5. Udaipuri Restaurant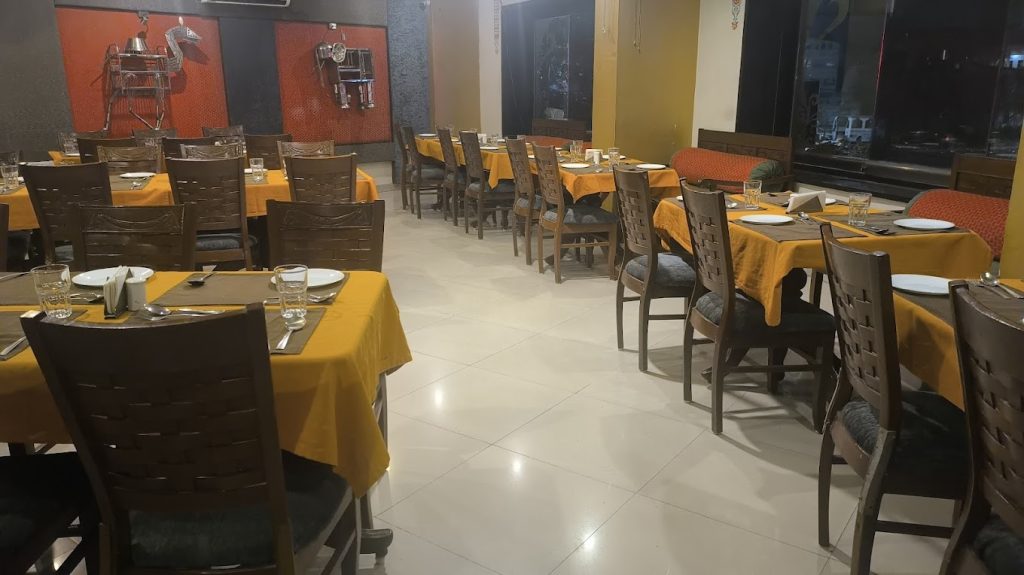 Category: vegetarian
Bar: no
Udaipuri Restaurant, one of the few restaurant in Udaipur that only serves vegetarian food, provides a fascinating fusion menu of Indian, Chinese, and Mediterranean foods. The Udaipuri restaurant is famous for its chic decor and elegant fare. This beautiful restaurant, located in the centre of the city, provides fantastic views of all the city's attractions. In this restaurant, you may get many specialty mocktails and soft drinks. To encourage hearty conversation among guests, the atmosphere is purposefully kept serene and calm. In Udaipur, this is where you can experience all-inclusive eating.
After visiting Udaipuri Restaurant with its wonderful food, simple décor, and friendly service, you'll be amazed at how a vegetarian moment can be delicious and unforgettable.
Address: Orbit Building, 1st Floor Hotel, Moksh Marg, Shastri Circle, Udaipur
6. Tribute
Category: Veg/ Non veg
Bar: Yes
The Tribute is a lakeside restaurant decorated in an equestrian style in honour of Maharana Pratap's legendary horse Chetak. This restaurant is situated closer to Fateh Sagar Lake and offers candlelight dining with views of Rang Sagar Island. If you go to the island in the winter, you can see many migratory birds.
The restaurant, which has the name of the city where it is located, honours the cuisine of the area with a menu that combines traditional Rajasthani ingredients with cutting-edge cooking methods. As a result, guests can enjoy a special and delectable eating experience. This place is known for their traditional Laal Maans, Chicken recipes and daal bati, It serves both ethnic and international cuisines. This is the place to go if you want to eat delicious foods while taking in a breath-taking lake view.
Address: Ambamata Temple Road, Fateh Sagar, Udaipur
7. Ambrai Restaurant
category: veg/non veg
Bar: yes
If you're searching for a romantic candlelight meal by the lake in Udaipur, the Ambrai Restaurant at the Amet Haveli is one of the best options. You'll think you're in your pleasant dream thanks to the panoramic view of the Sajjangarh Fort, City Palace, Gangaur Ghat, Jag Mandir, Lake Pichola, and more.You have a wide range of food selections at this restaurant, including North Indian, Mughlai, Continental, and Chinese. The best place to go on a date is Ambrai Restaurant in Lake Pichola. This eatery is situated along the banks of the river, so you can take in the illumination of the Jagdish temple, Jag Mandir, and Lake Palace. Romance would be sparked by the candle-lit table and the illuminated building in the background.
Ambrai is one of the most popular restaurants in Udaipur thanks to its upscale setting, superb food, and bar that matches the layout of the tables. Come here for a special candle-lit al fresco dinner for two with mesmerizing views of the lake and the spectacularly lit City Palace.
Address: 62, Ambrai Rd, Chand Pole, Silawatwari, Udaipur, Rajasthan
8. Khamma Ghani Restaurant
category: Veg. & Non Veg.
bar: yes
Another must-go-to Lakeview restaurant in Udaipur is this posh Indian eatery close to Rang Sagar Lake. This elegant Indian restaurant close to Rang Sagar Lake is another must-see Lakeview restaurant in Udaipur. The finest time to visit this location is just before sunset, when the city of Udaipur and the Rang Sagar Lake are bathed in a golden glow. The ambiance becomes even more beautiful as night falls due to the glittering stars and moon decked out on the ceiling of the eternally dark blue sky. They serve delicious, authentic Rajasthani food.
One of the best restaurants in Udaipur, Khamma Ghani offers a top-notch fine-dining experience with a 5-star ambiance and a vast selection of mouth-watering meals. You can try out the famous traditional cuisines like The Laal Maans , Daal Baati , besan gattey etc. It's a wonderful place to enjoy fine dining and connect with loved ones. Even though it also offers fantastic non-vegetarian fare, it is frequently listed as one of Udaipur's top restaurants for vegetarians because of its mouth watering vegetarian dishes.
ADDRESS; No 53, Near Hotel Natural Lake View, Rang Sagar, Ambamata, Udaipur, Rajasthan 313001
9. Sangria
category: veg and non-veg
bar: yes
Your evening will be made even more memorable by the view of the city and lake from Sangria Bar & Rooftop Lounge. Enjoy delicious cuisine and a laid-back evening beneath the sky while listening to music. Our visitors love to have dinners over warm bonfires on the chilly winter nights.
Sangria Bar & Rooftop Lounge is a full-service, laid-back all-day restaurant that serves primarily international food to appeal to diners in the area's diverse culinary preferences. It is a gathering spot for like-minded people to support their favorite teams, exchange grins and expletives over victories and defeats, and take in the gourmet gastronomic feast nearby: a perfect score only at Sangria Club.
Address: 6, Ambavgarh, opp. Lake Swaroop Sagar, Udaipur, Rajasthan
10. Sabor, Justa Sajjangarh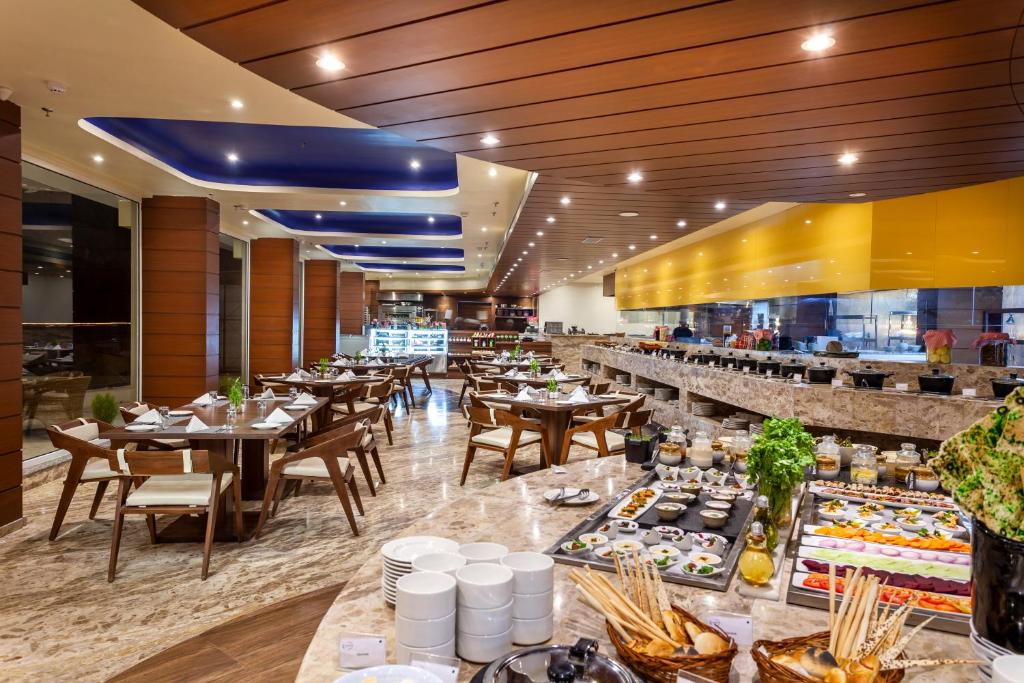 category: veg and non-veg
bar: yes
One such magnificent hotel where food is enjoyed to its maximum level is Justa Sajjangarh in Udaipur. It's just tempting to enjoy a variety of cuisines in a stunning setting, away from the bustle of the city. It can take you on an intensely delightful culinary journey.
On the first level of the Justa Sajjangarh lies the multi-cuisine Sabor restaurant. The chefs may provide meals on demand in the live kitchen. You get a lovely view thanks to the intricate seating arrangement inside and outside on the terrace facing the famous Monsoon Palace. Simply put, the staff members and their excellent hospitality make the visit worthwhile.
Address: Sajjangarh Main Gate, Biological Park, Udaipur, Rajasthan 313001
Conclusion
Keep in mind that Udaipur welcomes thousands of honeymooners and tourists each year. Therefore, it is crucial to reserve your table at least one day in advance. Udaipur includes a lot of restaurants because it is a tourist destination.
On your next trip to Rajasthan, stop by one of these fantastic 10 restaurants in Udaipur for an unique, flavourful experience that will make your trip a special experience. Without you having to do a thing, each of these carefully chosen restaurants can satisfy your every want. Happy Eating!