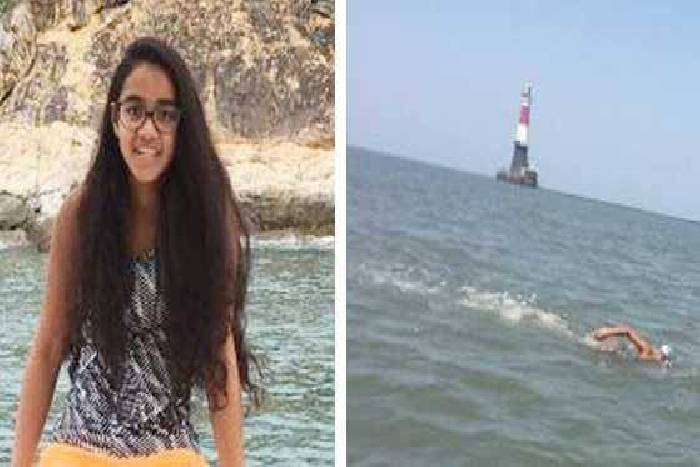 Bhakti Sharma made Udaipur proud with her exceptional swimming ability which garnered various World records in swimming including 'The Gigantic English Channel Record' now we have another swimmer from the city, Gauravi  Singhvi rising to touch the skies, Gauravi showcased her caliber on Tuesday when she swam 16.8 Km in just 3 hours 58 minutes to make a new World Record breaking two records, one Bhakti Sharma's record of 4 hrs 15 mins in the female category and Another 4 hrs 12 mins of a male swimmer.On Tuesday,21st march 2017, morning 9'o clock Gauravi started her swimming campaign in the Arabian Sea, from governor's house to Gateway Of India, the high-speed wind posed serious challenge as she had to apply greater force to swim, at 12:58 Pm she completed 16.8 Km in the Arabian Sea and broke multiple records, she also became the youngest swimmer to achieve this feat.It's the sheer hard work and dedication of Gauravi which made it possible to achieve this goal.She used to practice 4-6 hrs in the winters, she also swam 20 Km in Fatehsagar a day before Holi and after this, it was speculated that she will complete 16.8 Km in Mumbai in less than 4 hours.
Gauravi has won gold in state level swimming competitions, Gauravi says she wants to win medals for the country and also eying 'The English Channel' for that she is perpetually working hard.Gauravi gives the credit of her success to her coach Mr. Mahesh Paliwal who felt the tremendous potential in Gauravi after watching her swim for the first time.She is up for taking on 36 Kms swimming to be held on 26th March in Mumbai, after completing 36 km and 42 km Gauravi will be eligible for crossing 'The English Channel'.
Regional Sports Centre, Udaipur will be felicitating Gauravi Singhvi, District sports officer Mr.Lalit Singh Jhala said that Gauravi has made the city proud and sent the glory in the entire world, She will be provided with special honor.
Udaipur is now the home of two world-class swimmers and we just hope the local authorities and administration takes sufficient measures in encouraging sports so that more such sportsman in every field of sports can be produced.
Plz like us on Facebook and if you have something to share with us, drop a mail to udrbeats@gmail.com