As we all know 'Udaipur PSK' started functioning, there has been a lot of confusion in the minds of people regarding the procedure to apply for the passport in Udaipur so we bring you the step by step procedure to apply for the passport in Udaipur with screenshots, kindly follow the instructions.
Procedure to apply for passport  in Udaipur
Step 1-Log onto www.passportindia.gov.in click on the 'Register Now' (Refer the picture)
Step 2-After clicking on 'Register now' you will be taken to a page where you need to fill up the details(Refer pic), you won't find Udaipur in the drop down menu of 'Passport office' option so select 'Jaipur' for this option.Here you will choose your Login id and password.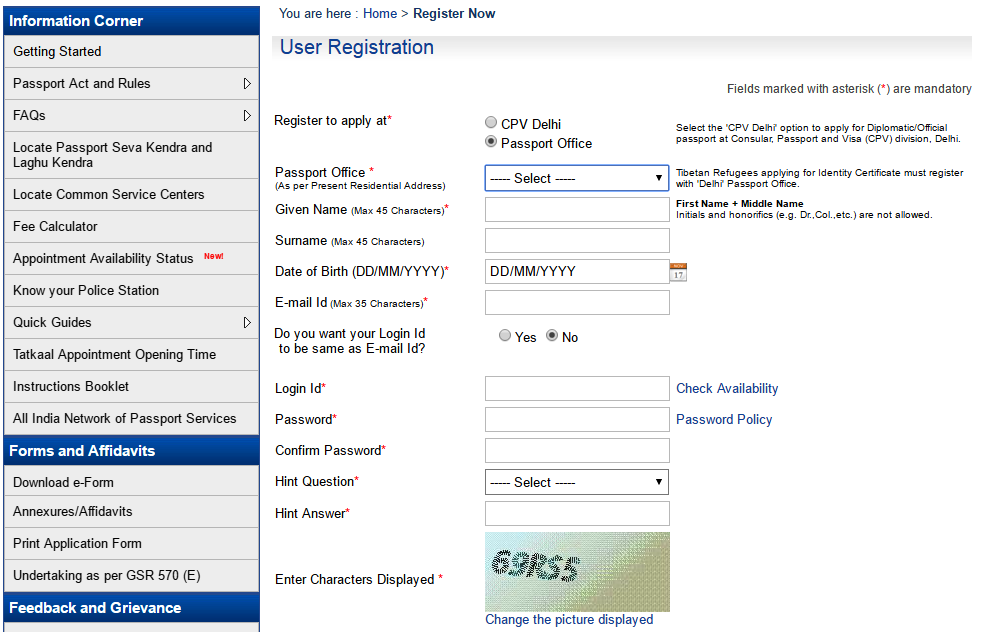 Step 3- An email will be sent to your email Id for confirmation, click on the link in the email and you will be taken to a page where you need to enter your Login id/User id which you chose in the previous step, once you enter the id  your registration will get confirmed.You will automatically be directed to the login page or you can again go to the home page of www.passportindia.gov.in and Log in by clicking on green section(refer pic)
Step4-After logging in select the first option ie 'Apply for fresh passport/re-issue of passport'
Step 5- After clicking on the first option you will get two option for filling the details, one by downloading and other online, you can choose any as per convenience.Fill carefully all the details asked in the form. You might get stuck at ECR and Non-ECR option, so if you have matriculation certificate or simply put if you have passed the 10th standard you fall in the Non-ECR category.Recheck all the details filled by you and Submit.
Step 6- Click the "Pay and Schedule Appointment" link on the "View Saved/Submitted Applications" screen to schedule an appointment.In this you will need to choose the date and place of appointment so select Jaipur first and you will see Udaipur in Sub-Category, select Udaipur.
Online Payment has been made mandatory for booking appointments at all Passport Seva Kendras/Passport Offices.
Online Payment can be made using any one of the following modes:
Credit/Debit Card (MasterCard and Visa)
Internet Banking (State Bank of India (SBI) and 

Associate Banks

 and Other Banks)
SBI Bank Challan
Step7-Click the "Print Application Receipt" link to print the application receipt containing Application Reference Number (ARN)/Appointment Number.
Step8-Visit Passport seva kendra, Udaipur along with the original documents. Follow the link to know about document to carry documents to carry link
Address of the Passport Seva Kendra Udaipur-113, Airport Rd, Kumharon Ka Bhatta, Subhash Nagar, Udaipur, Rajasthan 313001
Please like us on Facebook and stay updated with Enlightening, Entertaining, and Creative content on Udaipur.