India is a land of festivals and traditions. Holi is one most fun-filled festival of India, celebrated with the most zing and fervor in the northern, western, middle parts of India. Holi is a festival which is celebrated in so many ways in different part of the country. In this article, I will be writing about the different HOLI traditions that happen in and around Udaipur which one must witness if he/she is interested in Indian culture and tradition. One good thing about these traditions is that they are still preserved by the people and have not ceased.
If you are in and around Udaipur and wish to explore the vibrant traditions around Holi then just read below:
#4 Badshah Ki Sawari Nathdwara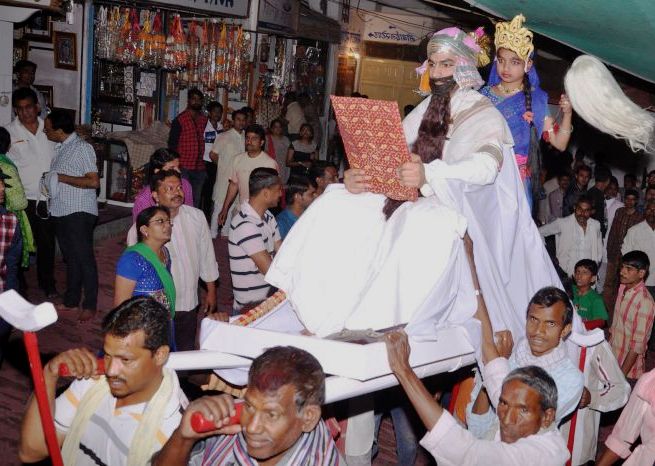 This tradition is an interesting tradition of Nathdwara, the land of much revered God Shrinath Ji which is 45 Km from Udaipur. This tradition is performed on Dhulandi (Next Day To Holi/ On colorful Holi Day) in the evening around 6 Pm.In this tradition a 'Badshah' (someone impersonated as a Mughal King) sits on a 'sawari' (an open palanquin carried by 4 men) with a photo frame of lord shrinath ji in hand facing him, the 'Badshah' has a long beard and attractive attires, this Badshah's procession starts from Badshah Gali, Gurjarpura Mohalla in Nathdwara, the sawari walks through the market with official temple band and the people hurl vulgar abuses on  Badshah in their local language which is an interesting part of this tradition. The procession after completing one circle around Shrinath ji temple reaches the 'Surajpol' where the 'Badshah' cleans the stairs with his beard. This tradition has its roots from the History, it is said that when Mughal emperor Aurangzeb tried to attack and destroy the Sri nath ji temple and in this attempt he lost his eyesight, even after doing all the efforts the eyesight didn't return, then someone asked Aurangzeb to apologize to Lord Srinath ji, he apologized and cleaned the stairs of the temple with his beard, after this he got his eyesight back. He then gifted a sparkling diamond to shrinath ji which can be seen studded in the chin of the shreenath Ji's idol.
Day- Dhulandi
Time- From 6pm
Place- Gurjarpura Mohalla , Nathdwara
#3.Dhoond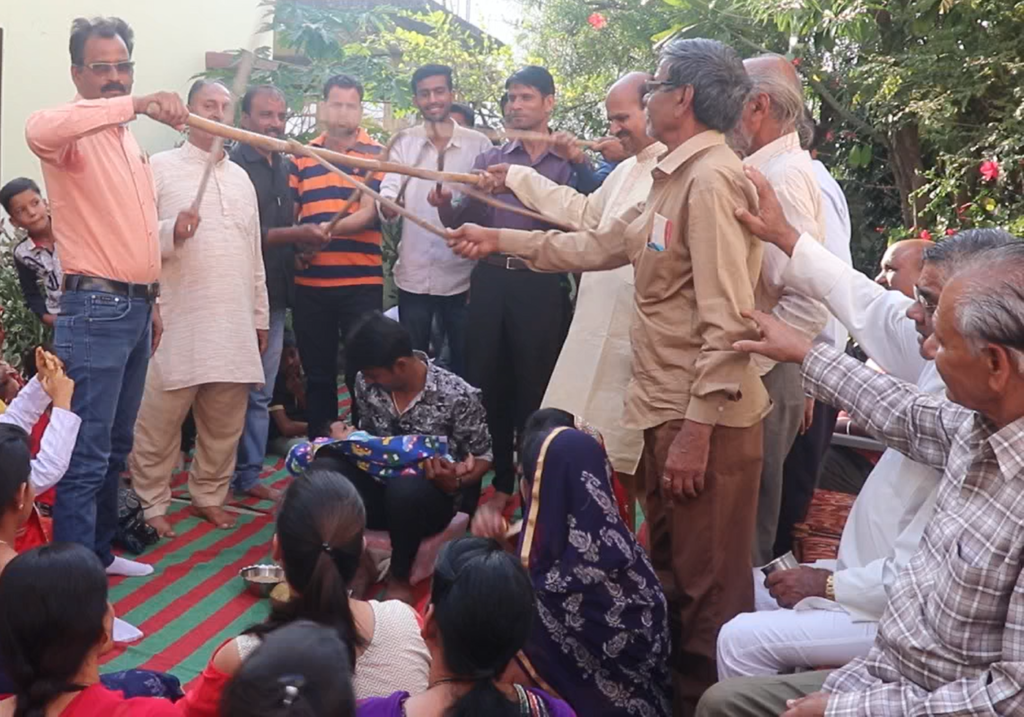 This is also a unique tradition of Mewar region, you can find this tradition in Udaipur city too and the adjoining semi rural areas of Udaipur like Badgaon, Bedla, Lakhawali, Bhuwana, Shobhagpura interior etc. The tradition is mostly preserved by rural people, in this tradition people after playing Holi visits the house which has a young one recently born every member brings a stick along with them, the bhua(sister of the baby's father) or Baby's Paternal Uncle sits in the middle with the baby, then all the members bang the stick together which produces sound and the baby cries due to that sound and stick. This tradition is for making the baby fearless. All the members are served with snacks and tea/beverages by the host which is a further delighting thing 😊
Day- Dhulandi
Time- Around Noon
Place- Udaipur, adjoining villages, parts of Mewar region
#4 Gair and Phool Dol
This one is a grand tradition that takes place in Bada Bhanuja village in khamnor tehsil, Rajsamand. This village has Paliwal brahmins as the majority, during Holi everyone who belongs to this village returns to the village no matter in which part of the state or country he is. On Holi night all men dressed beautifully in colorful sherwani perform Gair Dance with sticks at an amphitheater specially dedicated to this celebration. The next day tradition is called Phool Dol which is more intriguing, it starts at around 12 noon. In this tradition, everyone is dressed as 'Groom' and they perform a beautiful dance in a circle carrying a handkerchief. The tradition is worth watching. This village is around 54 km from Udaipur.
Day- Gair on Holi Night and Phool Dol on Dhulandi Noon
Time- Noon
Place- Bada Bhanuja
#1 Jabri Gair Menar
This unique tradition is performed on  Jamra Beej the day next to Dhulandi in Menar, a village situated at around 43 Km from Udaipur on Chittorgarh Route. In this tradition, Menariya Brahmin men who are a majority community in Menar donned as soldiers of the army, with dhoti pagdi etc all carrying guns recreates a war scene where 5 groups from different directions meet at a choraha, all men of the group do air fire with a gun, they also fire cannons making it look like a war scene. It is just spectacular to watch. After this they perform Gair dance with a sword, Menariyas are known for the Gair Dance. It's a 400-year-old tradition, 400 years ago Menariya brahmin defeated a Mughal army on jamara beej so to remember the victory the war scene is created.The then Maharana Amar Singh 1 gifted them a red 'jajim', a bankia(war instrument) and a ran bankur dhol (war drum). This is a must witness tradition of mewar. You can read more about this tradition by clicking Here.
Day- Dhulandi
Time- Around Noon
Place- Udaipur, adjoining villages, parts of Mewar region