Rajasthani food is popular worldwide due to its unique traditional taste. Everyone who visits Rajasthan surely enjoys the taste of Rajasthan. If you know how to cook you can make the authentic Rajasthani Food sitting at any part of the world so to help you out, here are the detailed Rajasthani Food recipes.
1.Daal Baati Recipe
Dal Bati is the most popular Rajasthani Food, it is basically round baked wheat balls consumed by pouring 'desi ghee'(clarified butter) with Dal (lentils)
This one is the traditional dal bati recipe which is prepared in the households, this recipe of dal bati will impart that traditional taste to it.There are various variations of dal bati served in restaurants and hotels but this one is prepared mostly in households.
Ingredients-Wheat Flour-1Bowl, salt as per taste, half spoon ajwain(carom seeds), half bowl curd, turmeric
Procedure-Pour curd, ajwain(carom seeds), salt, and turmeric in wheat flour, mix properly, make a tight dough, tighter than 'puri's dough', make medium sized round balls, and press slightly with the thumb in the center.Bake the balls in the otg, microwave or baati cooker.
How to Bake Bati
Microwave, OTG Oven- Preheat the oven and place the bati balls in the oven and bake it at around 200 C, after 10-12 minutes flip the batis to cook the other side of the bati.If you have confusion regarding cooked batis you can check one of the bati by taking out a sample with a knife.
Bati Oven/gas tandoor-If you have a Bati oven or gas tandoor you can place the balls in it and cook it at medium flame, flip it when one side gets red.
If you don't have the oven you can cut the balls in two or four and deep fry the bati balls till it gets crispy.
Traditionally Batis are baked on dried cow dung(Kanda).Dal bati tastes best with masala buttermilk, lal chutney, and salad.
For Daal (Pulses)
Ingredients-Garlic, 1 small piece ginger, chopped onion, green chili, red chili, 1 clove (laung), 4-5 pepper, cumin seeds, green coriander, coriander powder, Urad daal-1 bowl(Katori)semi peeled, chana daal(split chickpeas)
Procedure- For semi peeled Urad daal soak the Urad daal for half an hour and then wash such that some peel gets wash away and some stays with the daal, this is to get perfect taste. Mix 1/8th of chana daal.Take 5 garlic and 1 small piece ginger, add salt, turmeric, chopped onions, green chili, red chili, 1 clove (laung), 4-5 pepper, jeera, coriander(dhania)powder, and green coriander (hara dhania), grind the whole mixture slightly.Boil this mixture in water 4 times the quantity of 'Dal'.
Take full tablespoon oil in Kadhai(deep frying pan), add cumin seeds(jeera), clove(laung), pepper(kaali mirch), chopped onion, green chili, fry this till the onions become red, add dhania powder, red chili powder, add little water, and make masala(paste), add this masala to boiled dal then again boil, If you feel the dal is still uncooked, you can take one pressure in pressure cooker.Add green coriander as a topping in the end.
#2.Dhokla
Ingredients-Corn flour-1 bowl, ½ spoon papad Khara,1/2 salt, ½ red chili powder, cumin seeds(jeera), carom seeds(ajwain), bathua, palak, matar(according to availability), til oil or groundnut oil or ghee.
Process- Take corn flour, add jeera, papad khar, salt, chili, peas/bathua, green coriander, make the dough by sprinkling water to avoid the formation of lumps.Give it a shape of dauna and make hole in the middle, place it inverted in the idli cooker or in a container with boiling water such that the steam can pass from all the Dhoklas.Steam till the dhoklas get cooked.
#3.Lapsi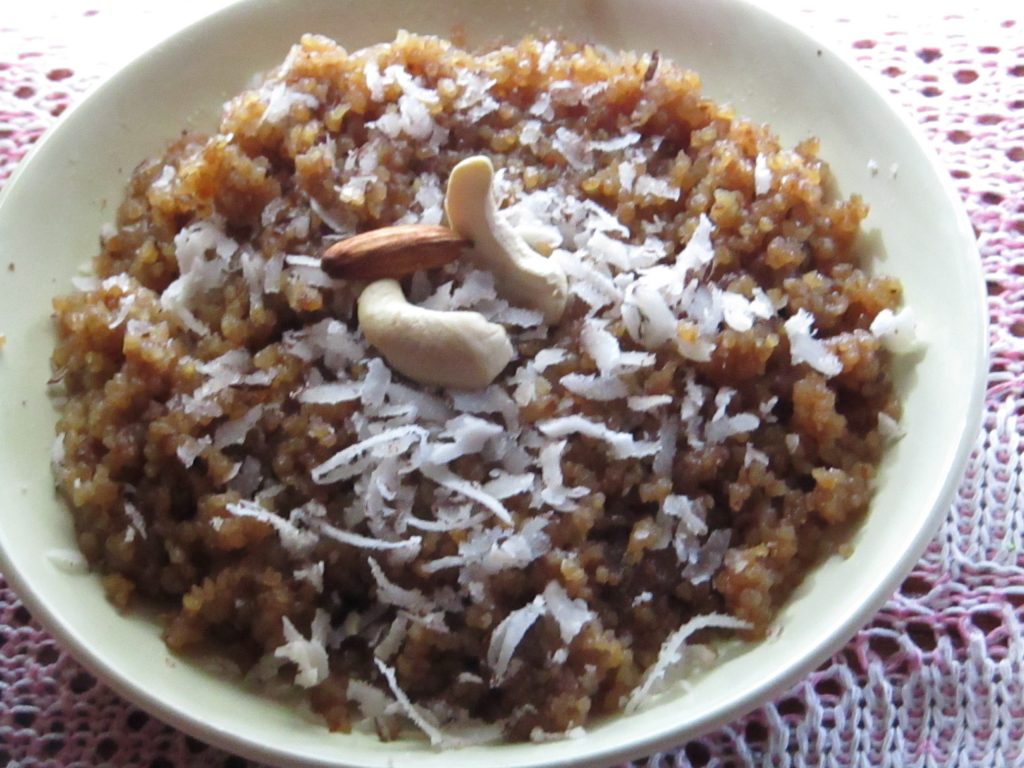 Lapsi is an awesome tasting dessert prepared in many parts of Rajasthan and especially consumed in winters.It is made in desi ghee from broken wheat, jaggery, dry fruits, and coconut.
Ingredients-Wheat Dalia 1 Bowl, 2 spoon ghee, ½ Bowl jaggery or sugar, dry fruits, cardamom(elaichi), water 2.5 times
Procedure-Put the ghee in the cooker, add dalia(broken wheat) in ghee, and fry till it gets red, add 2.5 to 3 times water and jaggery in small pieces, mix well and take four pressures, add little ghee, coconut and garnish with dry fruits.
#4.Kanda Besan
Kanda besan is one of the amazing winter food of some parts in Rajasthan especially Mewad.It is made from gram flour and onions(Kanda) and consumed piping hot with the chapatis
Ingredients-Besan, water, salt, red chili powder, turmeric, coriander powder, 1 fine chopped onion,2 garlic, 1 green chili, green coriander, oil, cumin, 1 spoon oil.
Procedure-Take 1 tablespoon oil in Kadhai, after heating it add jeera, after jeera gets fried add chopped garlic, after it gets red add onions(vertically chopped) after onions get red add green chilli, sim the gas, now in 250 ml water mix besan and masala and add to Kadhai, stir till it gets thick, add green coriander and serve.
#5.Raabdi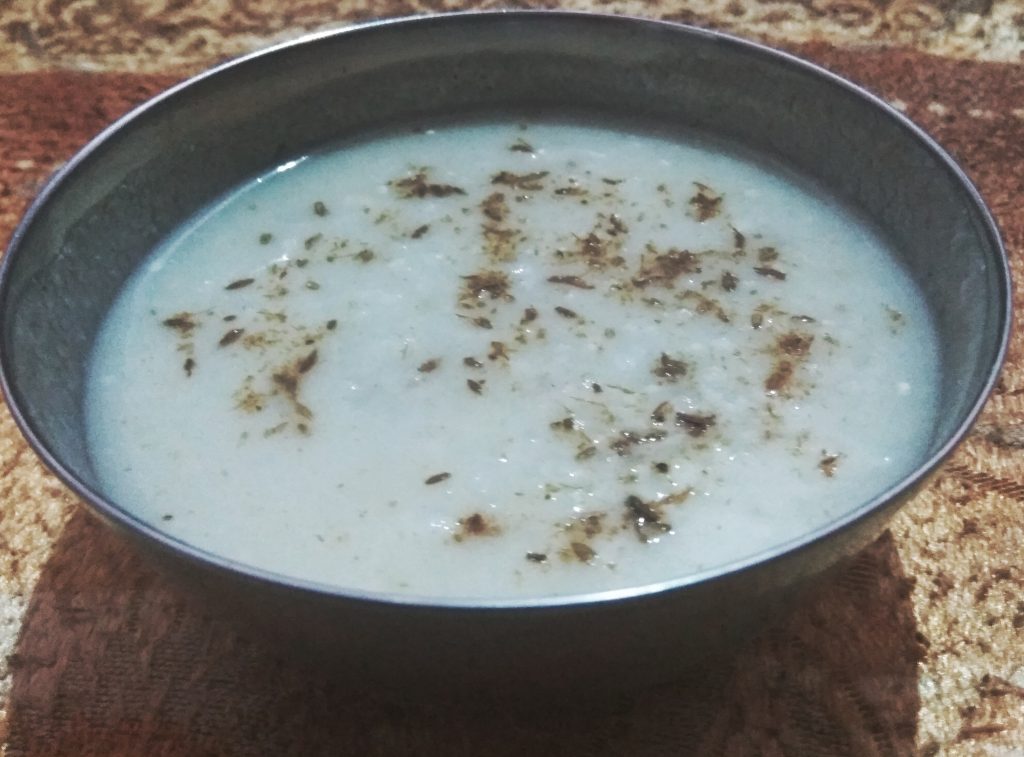 Ingredients-Makki ka dalia(broken corn)-1 small bowl, 2 tablespoon corn flour, 1 ltr buttermilk(chhach), cumin, Salt, ½ cup cream
Procedure-Wash dalia, clean peels, boil in the cooker with 2 times buttermilk, add salt, roasted jeera and stir continuously till it boils, if you don't stir, the buttermilk will separate out as the thin liquid, if you see peels floating at the top separate it out. Mix cornflour in cold water and pour it in boiling solution. After it gets slightly thick turn off the gas and add cream.
Serve with roasted cumin (jeera powder) sprinkled at the top and extra salt to be used as per individuals taste.
#6.Saajya(geriya)
Ingredients-1 small bowl(Katori) Corn Flour,  water-twice the flour, Jeera, half teaspoon 'Papadkhara', half teaspoon salt, half teaspoon red chili powder, Green Coriander, 1 green chili(masala can be increased or decreased as per taste)
Procedure-Boil 2 bowls of water in a container, add papadkhara, salt, cumin, green chili, and red chili powder, after one boil start adding the corn flour, in a spreading manner with constant stirring, allow it to cook at low flame, after it gets to cook and thickens add green coriander.Consume it with sesame oil, you can also have it with groundnut oil but sesame oil is best. It tastes great when consumed piping hot.
#7.Makki Ki Paapdi
Makki ki paapdi is a transformed form of 'Sajya' only, for preparing Makki ki Paapdi the 'Sajya' is made very thick then it is made into balls and kept in between the two smooth oil greased polythenes then pressed in the 'puri making machine' and dried on a cloth under the sun.It is still made in some households in villages where they cook the 'Sajya' on the traditional chulha and all the family members contribute in making 'Paapdi' on the house terrace.