Winters is the season of foodies, the increased hunger and cravings keep you searching out for delicious steaming food and if you are in Rajasthan than nothing beats the pleasure of having 'Rajasthani Food' in Winters. 'Mewad' region of Rajasthan has some great cuisines which are especially consumed in the winters, the cuisines consist of popular Rajasthan food as well as some great food of local taste. Below are the mouth-watering foods popular in Mewad with the recipe.
#1. Makki Ke Dhokle
Makki ke Dhokle is probably the most popular winter food consumed in Mewar and some parts of Rajasthan. 'Dhokle' is basically steamed hollow hemispherical balls of Corn Flour consumed with til or groundnut oil and Urad dal. In villages, these are prepared on traditional chulhas and consumed while sitting in open under mild sunlight.The oil is poured over the 'Dhokla', it is meshed to mix with the oil and then the 'dal' is poured over it and the whole thing is consumed with hand. Chhach(Buttermilk) and the salad which include reddish, carrot, onions, green chili,  tomato and lemon just adds up to the pleasure.
Click Here for the full Makki Ke Dhokle recipe.
#2. Kanda Besan
The hot molten kanda besan with the aroma of garlic and onion is a perfect counter to the chilling cold. 'Kanda' means onions and Besan is 'gram flour'. The besan is mixed in the water and cooked with garlic and spices till it gets thick then it is consumed with the chapattis greased with ghee.The whole combination has got an addictive taste and this taste you will only find in home cooked food and not restaurants.
Click here for the full Kanda Besan recipe.
#3.Raabdi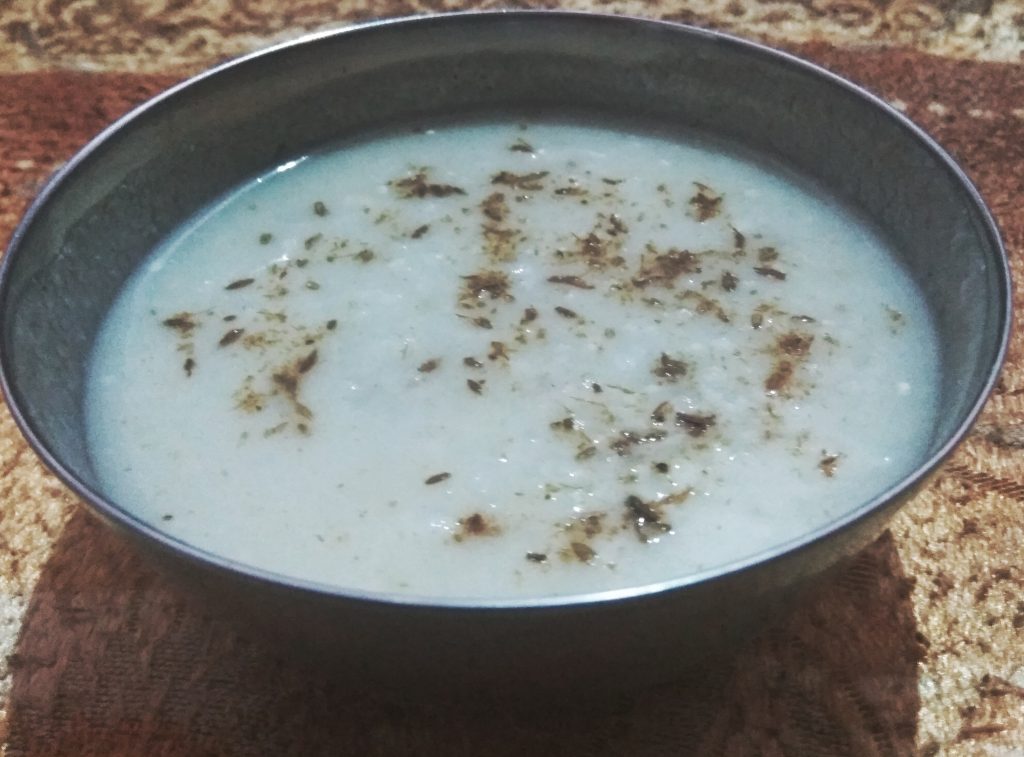 Raabdi is the most loved winter beverage of Mewad and other regions of Rajasthan. It is a saur and salty tasting semi thick beverage prepared from buttermilk and broken corn served in a bowl with the roasted jeera sprinkled over the top. Raabdi tastes best when cooked slowly on the traditional 'chulha'.In villages people consume 'Raabdi' on daily basis, it's like the staple food for winters.It is also a must-have item of the wedding menu in winters.
Click here for the full Raabdi Recipe.
#4. Bharma Baingan and Makki ki Roti
Generally people hear Makki ki Roti and Sarson ka saag but here people love Makki ki Roti with Bharma Baingan and it tastes divine, the spicy stuffed brinjal and potato cooked in gravy consumed with Makki ki Roti rich in the desi ghee makes it a lip-smacking combo and when Makki ki roti is prepared on the 'traditional chulha' the taste and experience is Unmatchable.
Click here for the full Bharma Baingan recipe.
#5.Lapsi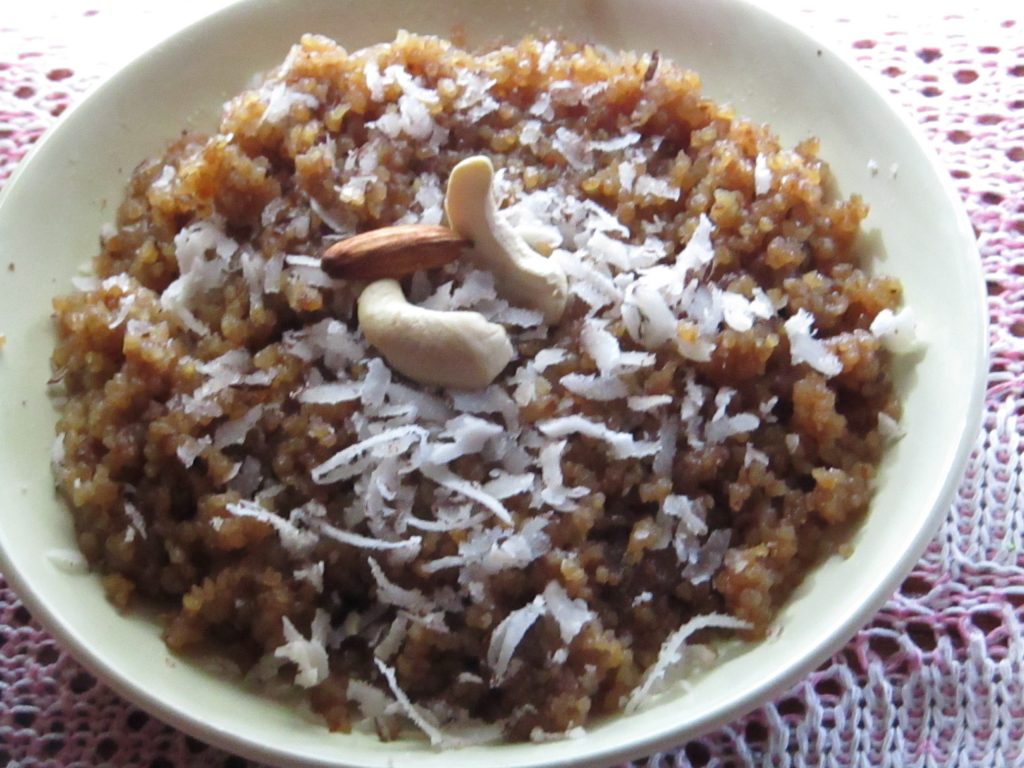 Now comes the desert, the wheat dalia cooked in desi ghee with the winter ingredient jaggery, coconut and dry fruits make it a delicious dessert, a treat to our taste buds. This delicacy is rich and superb in taste.
Click here for the full lapsi recipe.
#6.Kadhi Khichdi
The piping hot kadhi with khichdi is a common combo widely preferred in winters. Kadhi is prepared from gram flour by mixing it in buttermilk and cooked with the spices. It remains sour and spicy in taste.'Khichdi' is a contradiction in Mewad to other parts of India, Khichdi is normally referred to the moong dal  mixed rice which remains low in spiciness and normally consumed during any illness or stomach discomfort but here Khichdi means spicy rice dish with a dark yellowish texture made by adding spices, potatoes, peas, cauliflower(optional), chana dal, green coriander.The Kadhi Khichdi combination tastes great in winters when you have it piping hot.
Click here for the full Kadhi Khichdi recipe.
#7.Sajya(geriya)
Sajya is a winter only cuisine which is consumed piping hot with sesame or groundnut oil.It is thick, semi-solid cuisine made from corn flour.It is prepared on 'chulha' traditionally.
Click here for full 'Sajya/geriya' recipe
#8.Papdi
Papdi is made from 'Sajya' only, it is a dried form of 'Sajya', 'Sajya' is made into thin chapatis by pressing it in 'puri machine' and then dries under the sun, after completely drying it becomes hard suitable for deep frying.It tastes great with tea, and with chopped tomato, onion, and masala topping.
Click here for the full paapdi recipe.