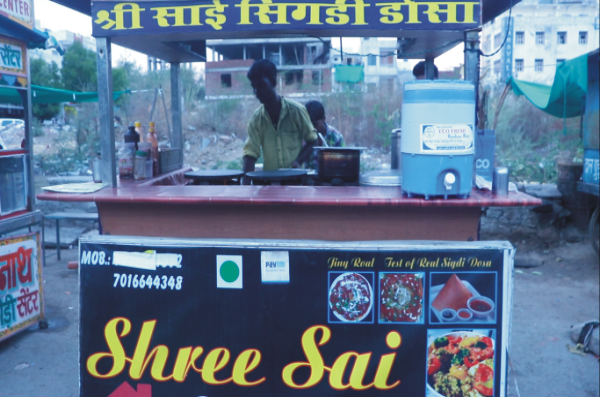 One of the unique thing which has happened to the Udaipur city in the food sector is this Sigdi Dosa.If you are not aware of the term Sigdi then it is a kind of Indian Iron stove which uses coal as a fuel. I had some great dosas on the roadside stalls in Bangaluru and was craving for the same here in Udaipur and thankfully came across this stall and this satisfied my craving to some extent and I would include this place in the list of places providing Best Dosa in Udaipur, I could relate the taste to the ones I had in Bangluru, this stall serves a whopping 260 varieties of dosas. The owner of the stall is Umesh Kumar. His style of preparing dosas is amazing and watching him prepare the dosa is a pleasure, watching the dosas being prepared makes your mouth watery and tempts you to have it(watch video). I had three types of Dosas which are Dilkhush, Sai Special, and Corn Dosa and I liked all the three as I am very fond of the cheesy rich recipes, there is a slightly sweeter hint to the taste in all the dosa and I liked it as he puts ketchup, dry fruits, and papaya tutti fruity, there are masala options too for the people who don't like sweetness in the dosa. Out of the three, I liked the corn and Dilkhush dosa very much. Sai special was also good in taste, he prepares it amazingly, after spreading the batter he rubs a big brick of butter, then puts the paneer, green coriander, grated carrot, grated beetroot, tomato ketchup, and spices. The whole thing is mashed on the dosa layer and then after cooking it, he cuts the dosa in pizza style.
The most beautiful part of the dosas is the garnishing, he garnishes the dosas beautifully, the plate of sai special dosa looked so beautiful and exotic as he kept a tomato shape as a rose flower right in the center(watch the video in the end).Umesh Kumar has great skills, he can cheer up kids with his smiley dosa which he beautifully carves on the pan, the smiley dosa can last for two months claims Umesh.
Have a look!
Some different varieties from the menu:
Conclusion- This is a great place for dosa lover, the stall is on the main road just a few meters from Menariya guest house, the seating is open, you might find some shortcomings in the sambhar but the dosa itself is so yummy that Sambhar won't bother you.
Watch the video of this delicious 'Sigdi Dosa' here, please subscribe to our Youtube channel and stay updated with amazing video.

-Blog By Aditya Sanadhya