The heat in the city is at it's peak and there is a great need to cool ourselves with the refreshing drinks and ice-creams when we move out of our homes so here are some icy cool delectable things which you can grab under Rs 30 in Udaipur to beat the heat.
1.Refreshing Kashmiri Jaljeera
Address- Near Shastri Circle
Price- Just Rs 5
This is the most amazing thing you can have in the scorching heat to relieve the body heat. This refreshing drink has the goodness of lime, gooseberry(amla), mint(pudina) and black salt. The drink is the usual green textured with 'boondi' floating over it, it has the addictive sour taste with the flavor of 'Mint'. Overall a great drink in 5 Rs.
Highly Recommended!
2.Thick Shake at Saras Parlor Shastri Circle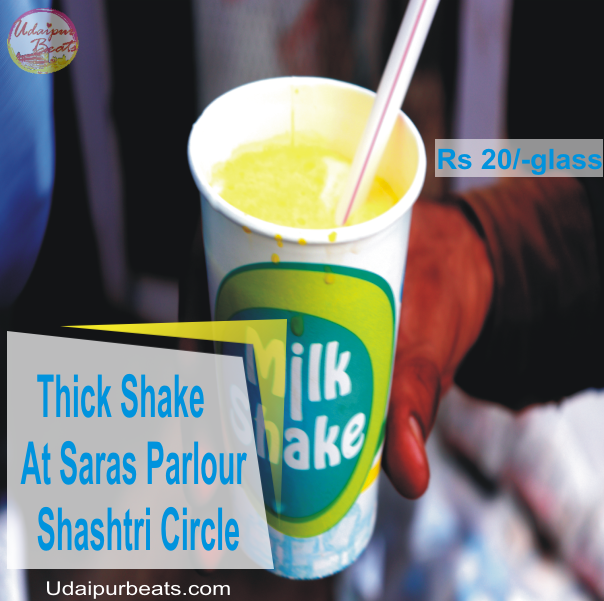 Address- Shastri Circle near Shastri Sweets
Price -Just Rs 30
If you are fond of shakes then this is the place, they serve the thick shake in three flavors Pineapple, Chocolate, and Strawberry, we tried the Pineapple flavor and it was absolutely amazing, the semi-frozen part of the shake felt so great inside, the extreme heat in the atmosphere made the shake furthermore relishing.
Must try it!
3.Butterscotch Shake at Shiv Ram ChetaK
Address-Shiv Ram cold house Chetak, near Shiv Shakti Restaurant
Price- Rs 30/Rs40
This is my favorite drink since years, the taste is addictive, if you love butterscotch flavor then must try the butterscotch shake otherwise you can also have other flavors like black current, vanilla, strawberry, and pineapple.You can have plain shake or with icecream, they charge 10 Rs extra for Shake with Icecream.
4. Payal Faluda
Address-University Road, Ayad in front of Aone school
Price-Rs 40
This is the best faluda available in Udaipur for this price, the faluda comes in a standard cupglass with 'lachhi', crushed ice, rabdi, double scoop icecream topped with different colored syrups, tutti fruity, and dry fruits, the taste is great and this faluda is highly recommended.They don't put the 'Sabza' seeds which is very uncommon in Udaipur.
5.Pineapple Juice of Bhola Juice
Address- Bhola Juice Centre, Surajpol
Price-Rs 30
For a pure, thick pineapple juice, head on to Bhola Juice centre, it's a big shop selling the pineapple juice and other fruit juices but their fast selling, they sell a good quantity of pineapple juice in a day, the price of the juice is 30 Rs and the juice is so refreshing and delectable.
6.Ganne Ka Ras(Sugarcane Juice) at Vidhyarthi Ras Bhandar
Address- Delhigate to townhall road, near tayasons
Price- Rs 10/Rs 15
This is one of the oldest shop of Sugarcane juice, they serve the freshly made sugarcane juice, the juice has the flavor of mint, lemon, and salt.Their bigger glass is so huge that it barely fits your palm unless you have a giant palm, after having the bigger glass you will feel your stomach heavy with sugarcane juice.The juice is chilled and tasty.
7.Chundawat Sweet Lassi
Address-Thokar Choraha
Price-Rs 20
Lassi is considered as the most healthy drink of summer, sweet lassi at Chundawat lassi is popular for years, you get the sweet lassi with the thick cream topping and rose flavor syrup added to it. It gives instant refreshment and energy.
Must try!
8. Fruit plate near bansi Pan
Address, opposite Bansi Pan, court choraha road
Price-Rs 20
The fruit plate is a nutritious option to have in the tiring heat, the plate has four juicy fruits, pineapple, watermelon, beetroot. All the fruits provided on the plate has a good amount of water, minerals, and vitamins which actually benefits the body and keeps it hydrated.
9.Papaya Shake at Anand Juice Centre
Address-Anand Juice just at court choraha
Price- Rs 30
The papaya shake at Anand juice center is very popular among the locals of the city, it is thick and prepared with milk, ice and strawberry ice-cream with the topping of tutti fruity and dry fruits.This chilled shake can bring temporary relief from hunger and can chill you in the summer.
10.Rabdi Kulfi of Shiv Kulfi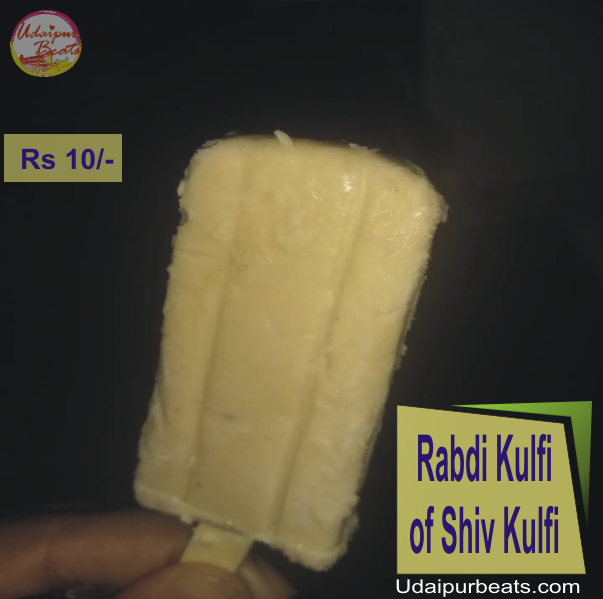 Address-Multiple stalls in the city, University Road, Shobhagpura Circle etc.
The Rabdi kulfi of shiv kulfi has amazing taste and if you are a kulfi lover you will enjoy this kulfi. There are multiple stalls of shiv kulfi, you can spot it at university road, Shobhagpura circle or anywhere else in the city.



Please like us on Facebook, follow on Instagram, and Subscribe on Youtube