Lok Sabha Election 2019 for Udaipur is quickly approaching, just a couple of days left, and we have two politics veterans contesting from the two major political parties of the Indian politics, BJP and Congress. Before casting our valuable vote it's important to know about our candidates who will be representing the issues related to Udaipur in the Lok Sabha which is like reporting directly to the government at the center. Below is the complete details of the Lok Sabha 2019 candidates Mr Arjun Lal Meena & Mr Raghuveer Singh Meena from BJP and Congress.
Arjun Lal Meena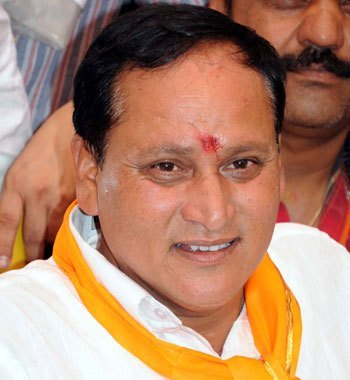 Mr Arjun Lal Meena was born on 12th August 1964 in Mansaro ki Obri village, Rishabhdev tehsil of Udaipur district of Rajasthan.
Education Qualification– Mr Arjun did his primary education in his native village, after 8th standard, he did his schooling from Fateh school, Udaipur. After schooling, he pursued his B.com degree from Manikyalal Verma College, Bhilwara. In the year 1993, after completing B.Ed he did M.com from Mohan Lal Sukhadia, University, Udaipur.
Political Journey & Achievements– In the year 2003 he resigned from the government job and joined the active BJP membership then he became the legislature(vidhayak) from Salumber by sweeping the elections with heavy margin.In 2007 he was awarded 'Rana Punja Award' by Maharana Mewar Foundation. In 2009 he was appointed as national secretary of the Anusuchit Janjati Morcha (scheduled tribe).In 2012 he was made the state head Janjati Morcha BJP. In the year 2014, he was elected as the member of Parliament from Udaipur. In addition to this, he is a permanent member of the health and family welfare parliament council, parliament member regional development project council, and tribal work committee, New Delhi.
Contribution to Udaipur
Mr. Arjunlal Meena has 86% attendance in the Lok Sabha, he has raised various issues related to Udaipur in the Lok Sabha, there are several contributions to Udaipur of which the major are:
The startup of Ahmedabad via Himmatnagar broad gauge railway project.
The electrification of Railway lines which is about to finish in Udaipur.
The beautification of the city railway station and the construction of Railway station towards the police line.
The setting up of Passport Seva Kendra (PSK) in Udaipur
Raghuveer Singh Meena
Mr. Raghuveer Singh Meena was born on 4th February 1959 in the Kharber village of Udaipur District.
Education Qualification
Mr. Raghuveer Singh Meena is a bachelor of Art from Vardhaman Mahaveer University, he also holds LLB from University of Rajasthan.
Political Journey and achievements
Mr. Raghuveer Singh Meena joined politics at an early age, below are the various position held by him in his polical career.
1988 – Became Sarpanch, Gram panchayat Kharbar, Tehsil – Sarada, District – Udaipur.
1993-2008 – Elected MLA in Rajasthan Legislative Assembly from Sarada.
1995-1997 – Appointed Vice President, Rajasthan Youth Congress.
1997-2002 – Appointed President, Rajasthan Youth Congress.
2002-2003 – Appointed State Minister, Sports, and Youth Affairs, Government of Rajasthan.
2005-2011 – Appointed General Secretary, Rajasthan Pradesh Congress Committee.
2008-2009 – Appointed MLA from Salumber.
2009 – Elected to 15th Lok Sabha to represent Udaipur Rajasthan.
2012 to Present – Appointed Vice President, Rajasthan Pradesh Congress Committee Rajasthan.
Contribution to Udaipur
The various contribution made by Mr. Raghuveer Singh Meena for our city is mentioned below.
1.Mr. Raghuveer played a good role in making Udaipur a better educational hub, he helped the establishment of Indian Institute of Management in Udaipur.
College of fisheries which was established in 2003 was on the verge of shutting down due to lack of requisite approval from the state government when Raghuveer Singh Meena got elected as an MP, he saw fisheries as an employment opportunity especially for the tribals of south Rajasthan.
2.His efforts got 4 new trains, new jalpaiguri, Shalimar, Bandra2, and Jaipur-Udaipur holiday express for Udaipur.
3. He helped establish Rajiv Gandhi Tribal University to provide higher education and research facility to tribal people.It also aimed to uplift the tribals in all spheres.
4.Dewas Project- Mr Raghuveer by his efforts got Rs 379 sanctioned for Devas 2 project, he also palyed his part in getting approval for Devas 3 and 4.Devas is a 31 year old dream project of Udaipur which is aimed at getting water from sabarmati basin to lakes of Udaipur. This project will solve the water problems of Udaipur forever.
Please vote and vote wisely, if we missed any major information you can let us know about it and we will add it.
Information Source- Wikipedia ,Facebook,and offline sources