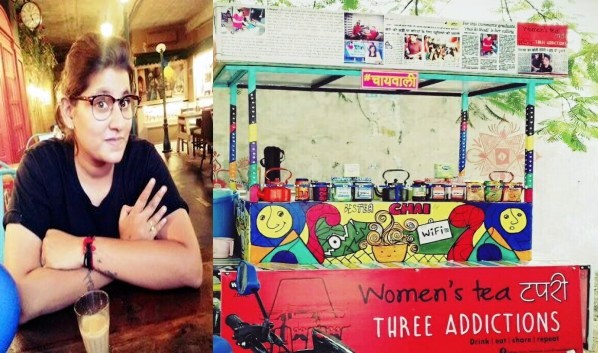 'No work is big or small' but we generally don't see every work that way and rule out some job or business options thinking 'what people will say', Priya Sachdev surpassed all the mental and social barriers when a need triggered a business idea in her mind. Most students after graduating looks to grab a decent job or eye a status soothing business with huge investment but Priya after doing bachelors in commerce decided to open up a 'Girls only' Tea Thadi . Tea Thadis are the most convenient option for quenching a 'Tea Desire' but girls find it odd to go out to a Tea Thadi and have tea, Priya says she and other girls of the college use to face problems while going for a tea on tea thadis as the tea stalls are occupied with men and boys smoking with the obvious possibilities of letching and passing comments and this sprouted the idea of 'Girls Only Tea Stall' in Priya's mind.She had to face strong resistance from family and other people as everyone was against Priya opting for a work which is perceived as 'Low Profile', she got to hear the same phrase 'Log kya Kahenge!" which has ruined dreams of many, people even lodged fake FIR against her but she got the support of police too who were convinced of her kind intentions and with lot of hard work she finally launched India's first 'Girls Only' tea stall' named as 'Three Addictions'.
Three addictions mean the commonly found addictions 'Maggie, Tea, and Internet'. This Tea Thadi stands out from the ordinary tea thadis as the pushcart is colorfully designed in bright colors, you can see modern art painted, a 'hashtag chai wali' written, and the newspaper cuttings appreciating 'three addictions' printed at the top, the kettles are solidly colored in different colors.They serve more than a dozen type of tea and Maggie, they also serve sandwich, buns, and pasta.One of the most lucrative things they provide is the 'free wifi' which obviously is everyone's addiction, they also have games such as ludo, snake & ladder, chess etc. Men also arrive at 'Three Addictions' sometimes but they don't say 'No' to them.
Priya is an inspiration to all the aspiring entrepreneurs, the men, and the women thrusting upon a strong message that "No work is big or small and being a girl can never stop you from achieving your dreams".You don't need huge resources, only slight innovation can also set the path to success.
You can find 'Three Addiction' tea thadi on Subhash Nagar Road, Near River View complex, do visit it once!
Plz like our Facebook page and if you have an inspiring story write to us at udrbeats@gmail.com